If you use WordPress you know that it plays an important role in your business, marketing efforts, and overall growth. As a dynamic and scalable platform, WordPress is a widely used platform for businesses of all sizes. However, it is important to maintain your WordPress site on a regular basis to keep it running at its best. WordPress maintenance helps protect against cyber attacks, identifying issues in performance, and more. By keeping your website up and running you ensure that no business will be lost due to downtime that regular maintenance could have prevented.
Unfortunately, WordPress maintenance can be time-consuming and many businesses neglect it in favor of other tasks. Outsourcing your WordPress maintenance can help improve site performance, protect your assets, and ultimately fuel your business efforts. WordPress maintenance works to:
Keep your website safe by identifying and addressing any website vulnerabilities
Maintain the effectiveness of your site by performing spam cleanups
Assure user security with routine updates
Provide monthly reports of your website speed, performance, and more
By keeping your website up to date with WordPress maintenance, you can reduce the risk of your website becoming compromised by malware, hackers, or other malicious sources while boosting its overall performance.
The Benefits of WordPress Maintenance
Outsourcing your WordPress maintenance has several notable benefits. While you focus on doing what you do best – growing your business – we help keep the digital aspect of your company running at its best.
Save Time and Money
If you are maintaining your WordPress site but have limited experience, you are costing yourself time and that means you are costing yourself money. By hiring a professional maintenance service, you are gaining time to spend on the things you do best. Partnering with Arca Interactive helps you save money as we offer the same great service for less compared to other companies. Our basic Website Care package, for example, costs $49 dollars a month, while other companies charge at least $79 a month for the same service! Our most comprehensive package costs $149 a month, compared to a $299 from one of our competitors.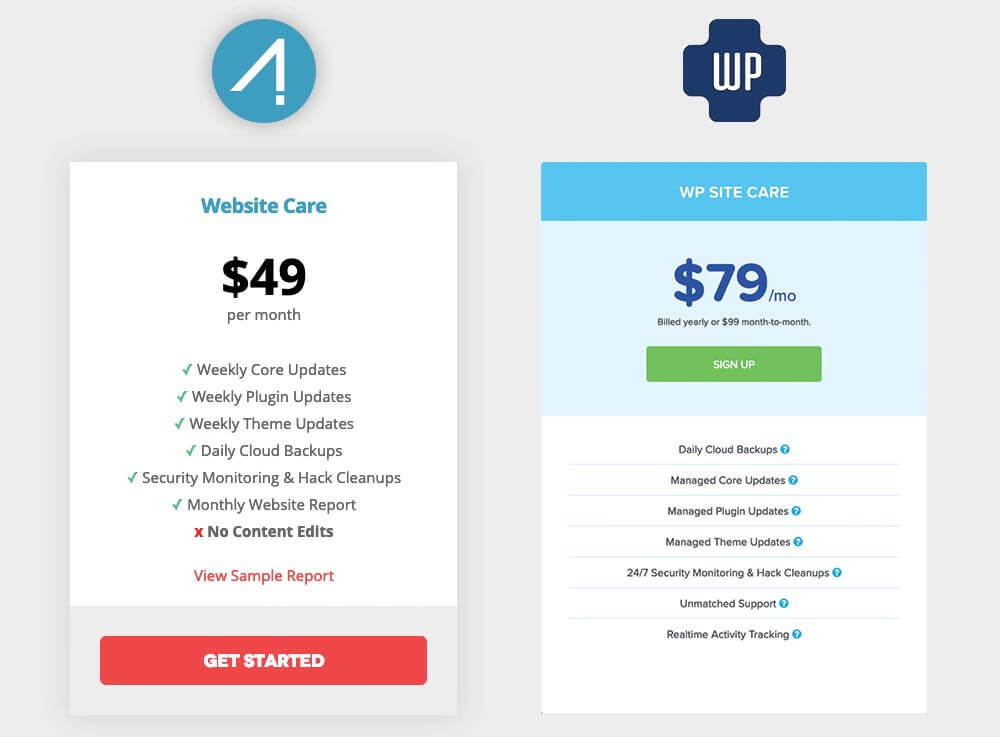 Improve Your Website Performance
The smallest things can slow down your website, including outdated plugins. We run regular updates and ensure that your website performs the way it needs to, improving your SEO and attracting new customers to your website.
Keep Your Website Current
WordPress continually updates and improves its platform, but you have to know how to take advantage of new features. We continually keep up-to-date on WordPress development and install the updates that will best help your business grow.
Businesses have a lot of options available to them when it comes to website maintenance, but it often falls low on their list of priorities. We not only keep your business website current, but also create backups so you can revert back to other iterations of your site should a problem arise. With WordPress maintenance services, your site can run at top performance at all times.
Gain Valuable Peace of Mind
Website maintenance can be time consuming and often requires expertise in the platform in question. As a business owner or manager, you are likely better suited to running business operations than you are a website. By outsourcing to a company who keeps up on best practices, you can have peace of mind knowing that your website will always function correctly and that any problems that arise will be resolved efficiently.
Improve Your Business Reputation
In a competitive business landscape, a digital presence is everything. Even a few minutes of downtime could result in lost business and revenue. Additionally, any website downtime could hinder your business reputation and give your customers an excuse to seek business from your competitors. Even worse, system downtime leaves your website vulnerable to hackers and malware. Thankfully, these issues are easy to rectify with the help of a professional company providing WordPress maintenance.
Increase Your Business Visibility
When you outsource your website maintenance to someone with the appropriate skill set, you get a high-performance site. This can mean improved load times which can improve your site's overall performance. That performance translates to improved visibility and results on search engines.
Partner With Arca Interactive for WordPress Maintenance
Some businesses may be tempted to tackle website maintenance on their own, but outsourcing is a better option that can save you time and money. By keeping your website up to date, you can improve your visibility, increase performance, gain better security, and enjoy peace of mind. Contact Arca Interactive today to learn more about our WordPress maintenance plans and how we can keep the digital aspects of your business running at peak performance. Keep your business operations running smoothly and create additional revenue with WordPress maintenance plans from Arca Interactive.