Website Design
Website Development
Custom Photography
WordPress Hosting & Support
Apollo Optical Systems is a world leader in optical system design, engineering and precision polymer optics. They provide innovative optical solutions for the consumer, commercial, solid-state (LED) lighting, medical, automotive and defense markets.
Website Design & Development.
Responsive Website Design.
Beautifully responsive web design so you can view on the go. A truly responsive website provides the same high level of user experience across all devices. By preserving and adapting all necessary website content you maintain the same great experience across all devices. In a competitive digital landscape, responsive sites are an integral aspect of a website.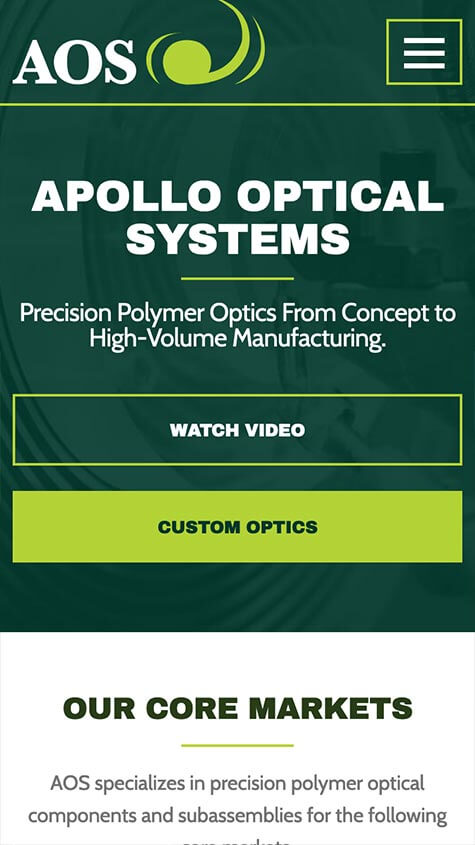 Kind Words From The Client.
Arca Interactive provided us with a website design that clearly and efficiently reflects our company culture and capabilities. The design was achieved through an effective process where communication was open and ideas were discussed thoroughly. The result has exceeded our expectations.
Project Overview & Result.
Apollo Optical's website was outdated and the navigation did not properly work in any web browser. Apollo designs precision polymer optics and more, but their previous site simply did not reflect the local and international presence of the company, nor was it SEO optimized. The site architecture needed to be re-organized and simplified, as this was hurting their customer interaction as well as their google SEO rank.
We worked directly with the President of the Apollo Optical to bring his vision of the site to life. We designed an easy to navigate, SEO optimized, responsive website design that provides a fluid and simple user experience on any device. We had a professional photo shoot at Apollo's state-of-the-art facility, which helped to add a connection between the brand and their customers. The result exceeded the expectations of everyone involved.