Website Design
Website Development
WordPress Hosting & Support
Clutch is your neighborhood sports bar reinvented. Offering a game changing Experience that features HDTV's, new era bar food and an extensive craft beer and craft cocktail menu. There are sports bars and then there's Clutch.
Website Design & Development.
Responsive Website Design.
Beautifully responsive web design so you can view on the go. A truly responsive website provides the same high level of user experience across all devices. By preserving and adapting all necessary website content you maintain the same great experience across all devices. In a competitive digital landscape, responsive sites are an integral aspect of a website.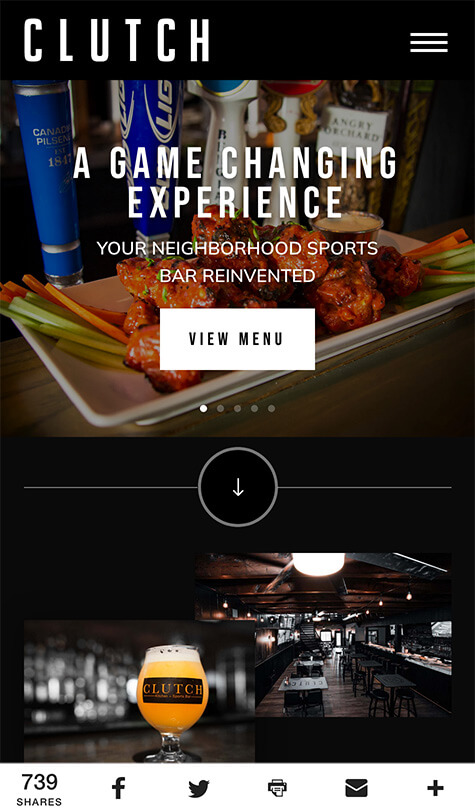 Project Overview & Result.
Clutch Sports Bar is located in the heart of Spencerport, NY right on the Erie canal. Their unique approach to the classic neighborhood sports bar required a website experience that matched their brand and vibe. The owners wanted a simple, modern website that focused on the beautiful photos of the food, drinks and distinct location. The site also needed to make it easy for customers to make dining reservations or book private parties.
The final result is a black and white themed website that uses incredible imagery to provide pops of color. The scrolling effects give the website a sense that you are interacting with each section. We included social sharing tools to allow visitors to share the site with just a few clicks. The site is beautifully designed for all screen sizes with forms to book parties and reservations. Their branding flows seamlessly from the website to the restaurant.